Turkey's tourism industry takes a hit amid security concerns
Comments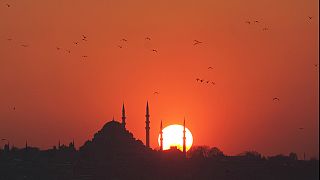 The streets of Istanbul, normally full of tourists, have seen a dramatic drop in foreign visitors.
Turkey's tourism industry has taken a hit after a failed coup and a string of deadly terrorist attacks in 2016.
In the latest – a massacre of mainly foreign tourists at an Istanbul night club on New Year's Eve – 39 people were killed. It was followed days later by a car bombing outside the main courthouse in Izmir, Turkey's third largest city.
The continued security threats are a big concern for the country where tourism makes up five percent of GDP and represents around eight percent of the workforce.
"It's the easiest way to hurt the economy," explained Yasemin Pirinçcioğlu, the head of travel agency VIP Event. "This is not war like it used to be, it's a different war, it's an the cities war type of thing, so this is why they hit tourism first," she added
In 2016 visitor numbers slumped by almost 30 per cent.
After another atrocity in Turkey, I fear tourism will fall further
But the best response to terror: keep travelling https://t.co/oY3scsOeVF

— Simon Calder (@SimonCalder) January 2, 2017
Not everyone is put off by security concerns. One tourist from Ukraine told a reporter that there is unrest in the world, noting that people say the same about her city in Ukraine being close to the front line, but she decided to visit Turkey anyway.
However, many more are staying away. The figures look stark for 2017. Even before the night club shooting on New Year's Eve, number of foreign visitors was expected to fall by a further 22 percent.
#Istanbul tourism ↘️26%, lowest in 16 yrs as Nightclub attacker still at large. #Turkeyhttps://t.co/uCiJVvV9AL

— Joyce Karam (@Joyce_Karam) January 6, 2017