Nicosia: The buffer zone in pictures
Comments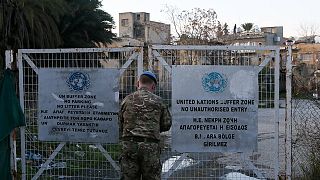 It has been 43 years since Cyprus was split when Turkish forces invaded and occupied the north of the island.
Nicosia, Cyprus' largest city, remains to this day the only divided capital in the world.
Commissioned by the Cyprus Press and Information Office, photographer Stavros Ioannides visited the city's buffer zone, known as the 'Green Line'.
The president of Cyprus Nicos Anastasiades and the Turkish-Cypriot leader Moustafa Akinci are currently embroiled in UN-sponsored talks which will continue next week in Geneva, Switzerland.
Between January 9 -11 the two sides will discuss the remaining issues concerning the division in Cyprus and present maps detailing territorial adjustments.
On January 12 a conference on Cyprus will be convened with the participation of the guarantor powers as well as other relevant parties where needed.