Vietnamese man has surgical forceps in stomach for 18 years
Comments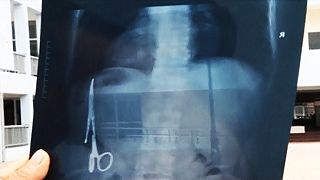 54-year-old Ma Van Nhat from Vietnam was finally cured of an 18-year-long pain in his side when doctors removed a pair of surgical forceps from his stomach.
A surgical team at Bac Kan hospital removed the forceps, which had been rusting in his body for 18 years after an ultrasound revealed them lodged in the side of his abdomen.
Nhat believes that the scissor-like tool was left behind during surgery he received following a road accident in 1998.
He has been taking painkillers ever since for "mild but long-lasting pain" which a clinic diagnosed as an ulcer.
Both rounds of surgery were carried out at Bac Kan Hospital in the northeast of Vietnam.
The hospital acknowledged the mistake on national television and said it would try to identify the medical team involved, despite patient records only being kept for 15 years.
The hospital has commented:
"This is a lesson to all doctors, especially to surgeons who are working with surgical equipment, this is a valuable experience."
In 2016 medical mistakes reported in Vietnam include two cases of doctors operating on the wrong limbs and at least three men being diagnosed as pregnant via blood tests.