Tensions rise between North and South Korea over 'provocative' missile testing
Comments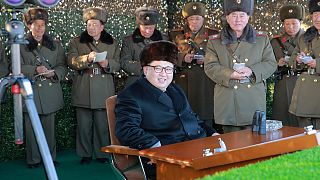 South Korea has described claims by its North Korean neighbour that it's close to testing long-range missiles capable of carrying nuclear warheads as being "provocative".
The announcement made by Kim Jong-un during his New Year address has alarmed Seoul.
According to the North's leader the intercontinental ballistic missiles (ICBM) are in their last stage of development.
South Korean government spokesman Jeong Joon-hee, from the Unification Ministry implied it amounted to warmongering:
"We perceive that the overall New Year's address made by Kim Jong-un yesterday did not offer any new visions. As for nuclear weapon-related he showed again his determination to continue nuclear provocations by mentioning a strong nuclear state, the completion phase of an Intercontinental Ballistic Missile."
Pyongyang, which continues to be under UN sanctions over banned ballistic missile tests, has conducted two small nuclear tests in the past year raising fears that it may have made significant nuclear advances. But it has never successfully test-fired such a missile.
A successful ICBM test launch would mark a significant step forward for secretive Pyongyang's weapons capability. ICBMs have a minimum range of about 5,500 km, but some are designed to travel 10,000 km or further. California is roughly 9,000 km from North Korea.
The Pentagon warns North Korea over its latest threat to test a long-range missile https://t.co/4zaI1DoGwu

—

TIME

(@TIME) January 2, 2017
US State Department spokeswoman Anna Richey-Allen on Sunday called on North Korea "to refrain from provocative actions and inflammatory rhetoric that threaten international peace and stability, and to make the strategic choice to fulfill its international obligations and commitments and return to serious talks."