French first to protect 'the right to disconnect'
Comments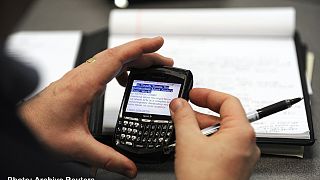 Many companies believe they "own" their workers even after they clock off, or at least expect them to read and respond to e-mails after office hours. Woe betide the ambitious employee if once home they ignore their e-mail thinking their day is over. Sanctions can even be threatened if employees don't stay chained to their keyboards.
With such demands increasingly being made of workforces France has introduced a legal right for workers to ignore business emails outside of office hours.
The measure is designed to combat the impact on health and home life suffered by the "always connected" generation who struggle to switch off at the end of the working day.
Ministers and unions had become concerned that the country's 35-hour working week was being undermined by technology that means the boundaries between office and leisure time have become blurred.
A survey by Eléas found that six out of ten French workers wanted a law to control connecting to digital devices outside working hours. The same survey found that 37% connect outside of working hours.
The measure is one of a package of labour reforms introduced by François Hollande's Socialist Party government in a bid to gain credibility for tackling economic issues ahead of this year's presidential election.
The other new laws met with staunch criticism and led to considerable civil unrest, culminating in what came to be known as "nuit debout" (or "night standing-up") in which diverse groups in cities across France, joined each other in protest each night for several weeks.
However, article 55 of the controversial reforms, the section protecting 'the right to disconnect' is being welcomed by workers.
The law, coming into force on 1st January 2017, will force businesses with more than 50 employees to take steps to regulate digital devices "to respect down time and work-life balance." It is hard to say how effective the law will be in practice, given the lack of enshrined penalties for businesses who do not comply. This is said to have been designed to promote compromise within businesses themselves and to account for the diversity of business needs and practices.
Having said that, any employee in a state of "over-connection" will have the right to bring their employer to an industrial tribunal for "moral harassment".
Here's how some leading companies are addressing the issue.
Auto-delete email policy
E-mail Daimler's German employees while they are on holiday and you will get a message like this:
'I am on vacation. I cannot read your email. Your email is being deleted. Please contact Hans or Monika if it's really important, or resend the email after I'm back in the office. Danke Schoen.'
Turning off email servers after work hours
Starting to see a pattern here? Yes, enlightened Germany, where workers get seats on the board of directors, sets many best practice trends. At Volkswagen-BMW servers stop
sending emails to some of their employees when they are off-shift. For example, Servers stop routing emails 30 minutes after the end of employees' shifts, and then start again 30 minutes before they return to work.
E-mail free Thursdays
At Graystone Industries in America executives realised that it was the slowest day of the week for the company. Associates can email but they know they won't receive a reply.
E-mail hours
Also in the USA ReliablePSD staff only answer email for an hour in the morning and an hour at the end of the day, leaving the middle of the day completely email free.
Keeping downtime strictly personal
Communiqué USA goes one step further, with an email ban that is formal policy. From the top down, employees are not allowed to send or respond to any emails after 7PM or on weekends. For those on vacation or off sick, they are left alone to recover and refresh.
Banning internal emails
While Atomic 212 in Australia has decided that if an employee wants to set up a task for somebody else it can only happen after face-to-face or phone communication with the other person. Instant messengers are not used.
Atomic 212 uses Wunderlist and Dropbox for task management and document sharing in lieu of emails.
The next step for Atomic 212 is to wean clients off communicating with the business through emails.