Out of sight: Queen Elizabeth misses church again
Comments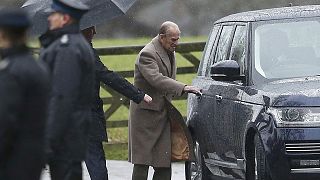 Her 95-year-old husband Prince Philip was there, as were other members of Britain's Royal Family.
But for the second time these Christmas holidays, Queen Elizabeth was a 'no show' at church – missing the New Year's Day service at her country estate, Sandringham.
Buckingham Palace says the 90-year-old is still recuperating from the heavy cold that forced her to stay away from church on Christmas Day, for the first time in decades.
The Queen misses the annual New Year's Day church service due to heavy cold https://t.co/HHlzmefDukpic.twitter.com/rVKrJiwWVo

— HELLO! (@hellomag) 1 janvier 2017
Elizabeth and Philip were both suffering from heavy colds in the week leading up to Christmas and delayed their journey from London to Sandringham by a day, travelling there by helicopter on Dec. 22.
Philip recovered and attended both the Christmas and New Year services.
On Sunday, he arrived by car before walking into the grey stone parish church of St. Mary Magdalene, but the Queen, who is the symbolic head of the Church of England, made no public appearance.
Now, after almost two weeks out of the public gaze – apart from in her traditional pre-recorded Christmas TV message – concern for the Queen's health is growing.
Acknowledging her age, the world's longest-reigning living monarch has already handed over some royal duties to other family members and cut back on international tours. But she is still known for her robust constitution.
with Reuters