Egyptian government was 'informed' of murdered student's actions shortly before disappearance
Comments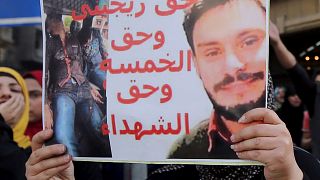 The Egyptian Secret Services have once again been implicated in the suspicious death of Cambridge student Giulio Regeni, whose mutilated body was found in February on the outskirts of Cairo.
The head of the Egyptian independent trade union of street vendors, Mohamed Abdallah, has revealed that he informed the Interior Ministry that the PhD student had been asking "strange" questions on matters affecting national security.
He said the last time he spoke with Regeni over the phone, just three days before the 28-year-old's disappearance, he made a recording of the call and handed it to the Interior services.
Abdallah told the Huffington Post that he had met with Regeni a total of six times.
"He was a foreign guy who was asking strange questions and he was with the vendors in the streets, questioning on matters affecting national security," he said.
Regeni went missing while researching Egypt's independent trade unions for his doctoral studies.
His half-naked corpse was found in a ditch by the side of the Cairo-Alexandria motorway, days after he went missing and showed signs of extreme torture: contusions and abrasions indicating severe beating; extensive bruising from assault with a stick; more than twenty bone fractures – including seven broken ribs, all fingers and toes, as well as legs, arms, and shoulder blades; stab wounds; cigarette burns and a brain hemorrhage.
An autopsy concluded that his death was ultimately caused by a broken cervical vertebra.
Egypt says that Regeni fell victim to robbers, but the student's family rejects this version of events.