Battle for Mosul: internally displaced nears 100,000, UN agency says
Comments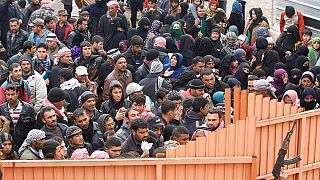 The number of people displaced from Mosul has nearly reached 100,000 the UN's refugee agency says since the Iraqi army's offensive to retake the city from ISIL.
Now in its third month, a combination of cold weather and a lack of essential supplies has taken its toll on those fleeing the violence.
Many of the displaced continue to live in dreadful conditions.
In one refugee camp near Mosul, some 8000 families have arrived in the last few months. Forced to make do with just four hours of electricity a day, many in the settlement say they are struggling to cope.
''We're suffering due to the lack of gas. As you know, it's the winter. Gas is an absolute necessity inside the tent, especially since there hasn't been any for two days,'' said father of four, Ahmed Khulauif Mohammed.
Recently the UNHCR urged donors to close a funding shortfall for its winter programme in Iraq and a rationing system is in place to distribute food and other vital supplies.
"I'm a new arrival and the organisation distributes the aid according to food cards. Many internally displaced people who came before us have already received aid. They distribute it according to the date on the food card," said Omar Marwan, who was displaced from Mosul.
The World Food Programme says more than 200,000 families in northern Iraq have received monthly food rations since the start of the Mosul offensive. But many complain its insufficient.
Sabri Abdullah Hmad, a spokesperson for Mercy Hands for Humanitarian Aid, said: "This amount is for one month and it's not enough. It's just enough for three or four people, but not for the families.''
"It's not enough for us. It's just for three people. There is no gas and right now it's winter. If we bring one gallon of gas it's not enough for us. It only last's for two days,'' said Salim Mohammed, another displaced person from Mosul.
Despite the conditions faced by those fleeing Mosul, concern is even higher for those still stuck in the city.
The UN estimates as many as a million people may still be inside Mosul without any access to humanitarian aid, as food and medical supplies dwindle.