Anis Amri: from petty crime to jihad
Comments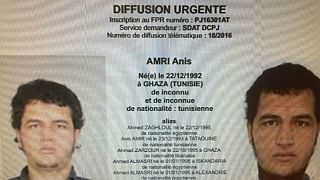 Anis Amri, the Tunisian believed to have rammed a truck into a Berlin Christmas market this week, was well known by police and even counter-terrorism agencies.
In his hometown of Oueslatia, a poor desert town in central Tunisia, Amri was described as a school dropout and petty thief who drank and took drugs before embracing radical Islam.
A petty criminal in Tunisia before the Arab spring, the Berlin attack suspect became radicalised after travellin… https://t.co/yzv6S0Wk5b

— Thus Spake (@thus_spake) December 23, 2016
The youngest of nine siblings, he fled Tunisia during the Arab spring in 2011 – escaping a four-year jail term handed down in absentia for robbery and burglary.
Like thousands of other migrants, he made the dangerous Mediterranean crossing and landed on the Italian island of Lampedusa. He lied and said he was still a minor, and was taken to a new center in Sicily. There, he was charged with burning a migrant reception center and served four years in jail.
He's believed to have radicalised while behind bars, an all-too-familiar path for many jihadists. Upon his release, Italy ordered him to leave the country, but Tunisia refused to take him back. In July 2015, Amri headed to Germany.
He was said to deal drugs in Berlin while mingling with radical Islamist circles, and eluding authorities by using six different identities.
Suspect in Berlin truck attack both sold drugs and embraced radical jihadist ideology https://t.co/uoB5r1NIHo

— Wall Street Journal (@WSJ) December 23, 2016
Counter-terror agencies were watching Amri and suspected he was preparing "a serious act of violence against the state," said Ralf Jaeger, interior minister of North Rhine-Westphalia state.
However, the surveillance stopped in September.
Germany had meanwhile rejected Amri's asylum request in June but his deportation got mired in red tape. The missing papers arrived from Tunisia two days after the Berlin truck rampage.
#ISIS al-Amaq agency releases a video of Anis Amri pledging allegiance to Abu Bakr al-Baghdadi #Berlinpic.twitter.com/sBGF0ul5Af

— Michael Horowitz (@michaelh992) December 23, 2016
ISIL on Friday confirmed the death of the Berlin attacker and posted a video of Amri pledging allegiance to the militant group. In it, he called for revenge against "crusaders" bombing Muslims.
Amri's family condemned the attack earlier this week.
"I will never say that he is my son because he is a traitor to us and to Tunisia. He won't be my son anymore," said his mother Nour El Houda Hassani.