"Females make up nearly three-quarters of trafficking victims" - United Nations
Comments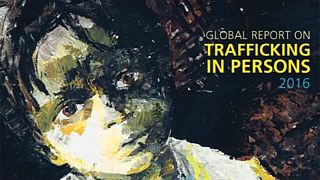 Almost three quarters of victims of human trafficking worldwide are female. That's according to a newly released UN report.
The organisation's Office on Drugs and Crime based its findings on trends studied among 63,000 trafficking victims between 2012 and 2014.
More than half of those affected were adult women, while 20 percent were underage girls.
Slavery, fraud, sham marriages were some of the forms of trafficking but the common theme was sexual exploitation.
Kristiina Kangaspunta, UNODC Chief of the Global report on Trafficking:
"Women are mainly exploited in sexual exploitation. 72 percent of women are exploited through sexual exploitation, but there also are 20 percent who are exploited in forced labour."
The rise of Islamist extremism was also found to have had a major impact. Nadia Murad, a Yazidi human rights activist and former ISIL abductee spoke of genocide.
"One element of this genocide (committed by ISIL against Yazidi) was the systematic enslavement of the Yazidi women, girls and children. More than 6 thousand were enslaved and reduced to items of property through an abusive system, where ISIL militants treated Yazidi women as a worthless tool to served there sick desires."
However the report also found that the proportion of men had risen to 21 percent in the last decade.
In Sub-Saharan Africa a rise was noted in the numbers of males becoming victims of forced recruitment for different military conflicts.
The numbers studied in the report are just a sliver of the 21 million people estimated to be trafficked worldwide by the UN's International Labour Organisation (ILO)
The UNODC Chief stressed that more resources clearly need to be devoted to identify and assist trafficking victims, as well as improve criminal justice responses to detect, investigate and successfully prosecute cases.