Ukraine's largest bank, Privatbank, nationalised
Comments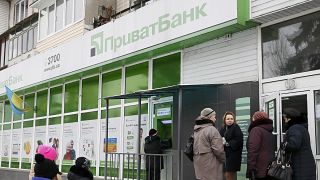 Privatbank, Ukraine's largest private bank, is being nationalised to protect the country's financial system and preserve an essential bailout loan from the International Monetary Fund.
It was running out of money because of the recession in Ukraine and questionable loans, the central bank said 97 percent of its corporate loans had been made to companies linked to its shareholders.
Part owner Ihor Kolomoisky, a powerful tycoon who in the past has clashed with Ukraine's President Petro Poroshenko, couldn't raise enough money to recapitalise the bank.
Poroshenko went on TV to assure the more than 20 million Ukrainians with money in the bank that their cash is safe as a parliamentary bill gives additional guarantees on deposits.
Some statistics showing how powerful Ukraine's Privatbank is…https://t.co/HKrwjVI5aqpic.twitter.com/NUXql10Wsu

— Hromadske Int. (@Hromadske) December 18, 2016
The finance ministry said rescuing Privatbank was essential as part of the clean-up of Ukraine's financial system.
That could help unlock more aid from the International Monetary Fund next year but it will cost the state the equivalent of at least 4.3 billion euros, which the central bank said it will be able to cover.
Finance Minister Oleksandr Danyliuk believes the government will get its money back from a future sale. He told reporters: "After the bank is fully stabilised, and starts to fulfil its plan of strategic development, the government plans to sell the bank."
The nationalisation could have political ramifications though with opposition lawmakers blaming the government and the central bank. One called it the "greatest robbery of Ukraine's state budget of the millennium".