President-elect Donald Trump's cabinet team
Comments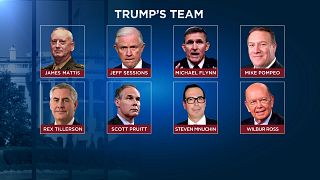 President-elect Donald Trump went on a thank you tour and then got down to the business end of his forthcoming presidency choosing those – or should we say auditioning those – who will serve in his cabinet.
In Trump Tower there was the casting couch and those who have got the nod are in the mold of the man who will become arguably the most powerful in the world.
The majority who will sit in cabinet are white men. Many are very wealthy, businessmen who like to take risks, often instinctive in their actions rather than prompted by studied reflection. The Trump team is a team of bosses.
President-elect Donald Trump's Cabinet will be the most white, male Cabinet since 1989 https://t.co/vlQhJ2J3gipic.twitter.com/3LTQYyP5s3

—

CNN

(@CNN) December 15, 2016
And the boss of the bosses is 64-year-old Rex Tillerson former CEO of ExxonMobil. He has a net worth estimated at 245 million dollars. Will he be able to pour oil on the choppy waters of international diplomacy?
Here's a clue. He is reportedly close to Russia President Vladimir Putin. They oppose sanctions against Moscow imposed after the annexation of Crimea.
"Mad Dog" is in charge of defence – that's the nickname for James Mattis who is known for his "tough talk". He is one of a number of generals in the cabinet like the new Homeland Security Chief, John Kelly who considers the Mexican border "vulnerable".
Mike Pompeo will run the CIA. Sharp and pugnacious he is a former Army tank officer.
Retired general Michael Flynn becomes National Security Advisor. He served in the Obama administration before becoming a critic of the president's foreign policy.
Heading up the Treasury is Steve Mnuchin a former partner of Goldman Sachs. Trump campaign's chief fund raiser has no experience of politics or policy.
Wilbur Ross, has been appointed Secretary of Commerce. He's known to be opposed to the North American Free Trade Agreement and China's entry into the World Trade Organisation.
The environment will be in the hands Scott Pruit. The Oklahoma Attorney General is a known climate change sceptic.
Rick Perry will lead the energy department. About 60 percent of his department's budget is devoted to the National Nuclear Security Administration – the nuclear weapons program.
And finally among the few women who passed the Trump 'audition' is Nikki Haley who has been appointed ambassador to the United Nations. The 44-year-old Republican Governor of South Carolina has no experience in foreign policy.