And Also: Italian marriage vows and an unusual economic indicator
Comments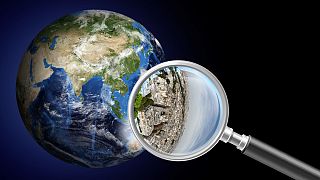 Every Friday journalists from euronews' various language teams choose a selection of stories from Europe and beyond which did not reach the international headlines
He's behind you!
Horses, humour and festive fun were on full display in London with one of the daftest races in the city's calendar.
Around twenty teams took part in the London Pantomime Horse Race on Sunday, December 11 in the south-east Greenwich area.
Two people raced under each horse, one at the front, another at the back.
The wacky race, now in its seventh year, raises thousands for charity, this year supporting The Sick Children's Trust.
---
'Mouse art' intrigues Malmo
The hearts of locals in chilly Malmo in Sweden have been warmed by the appearance of a mouse-themed art installation on the city's streets.
Hidden at ground-level, the work includes a French nut store offering a range of nuts for the city's mice, as well as a restaurant next door, named Il Topolino, which means Mickey Mouse in Italian.
The anonymous artist thought to be behind the work has been posting regular updates to an Instagram account.
---
Russia's top dog?
Vladimir Putin's dog got a spell in the limelight when she was brought into a media interview.
Yume, a large Akita breed, barked as she met Japanese journalists in Moscow.
Putin, who was given Yume by Japan's Akita Prefecture in 2012, made the move ahead of a visit to the Asian island nation this week.
---
Giant wave in European waters 'breaks world record'
A huge 19 metre-high wave has made a splash among weather experts after it was claimed as the biggest-ever recorded by a buoy.
The giant wave (similar but bigger than the once pictured) was registered in waters between the UK and Iceland on February 4, 2013, according to the World Meteorological Organization (WMO), who have only now published information about the record-breaker.
It was recorded around 6 am amid strong winds of around 81.1 kph
The WMO says it beat the previous record, also set in the North Atlantic, of 18.2-metres, on December 8, 2007.
The record-breaking wave was recorded at approximately 59° N, 11° W, says
WMO
.
---
That's amore – why marrying Italians may stop promising to be faithful
Marrying couples in Italy may stop vowing to be faithful, if a new bill is approved, reports The Local Italy.
The change to Italy's civil code would take out the word 'fidelity' from marriage contracts.
Supporters of the bill say promising not to cheat is outdated.
The bill is currently with the Italian Senate's judiciary committee.
Italy: The Institution of Marriage -Soon, married Italians might not have to promise to be faithful https://t.co/tKnYrkT0UM

— Cornbread Wisdom (@CornbreadWisdom) December 16, 2016
---
Chile minister's sex doll gift blows up into Twitter storm
Chile's economy minister Luis Felipe Cespedes found himself in hot water after he was presented with an inflatable sex doll at an industry dinner.
The minister, who later apologised, appeared pleased with his present and was seen laughing as he was given with gift by Roberto Fantuzzi, head of Chile's Manufacturers' and Exporters' Association.
The toy had a sign pasted on its head saying "to stimulate the economy".
Aunque siga, renuncie o lo echen nadie nunca más tendrá otro recuerdo de Luis Felipe Céspedes que esta foto sorprendido/contento. pic.twitter.com/CP80K3cknr

— Antonia (@AntoRivas) December 14, 2016
---
Sources:
"Russia's top dog":
http://www.reuters.com/article/us-russia-japan-putin-dog-idUSKBN1431U7