Senators call for Duterte to be impeached over vigilante killings
Comments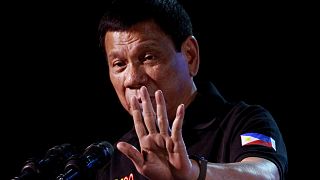 Two senators from the Philippines have called for President Rodrigo Duterte to be be impeached after he claimed to have killed suspected criminals.
The leader boasted to business leaders on Monday that as Davao City mayor he used to prowl the streets on a big motorcycle looking for "an encounter to kill" just to show to local law enforcers he can do it.
"I used to do it personally," Duterte said. "If I can do it why can't you?"
More than 2,000 people have been killed in police anti-drug operations since Duterte became president in July.
Almost all were shot when they resisted arrest.
Another 3,000 deaths are under investigation, with critics calling them vigilante killings.
Senator Leila de Lima, a staunch critic of Duterte, said the president's admission could be a ground for impeachment.
"That is betrayal of public trust and that constitutes high crimes because mass murders certainly fall into the category of high crimes.
And high crimes is a ground for impeachment under the constitution," de Lima told CNN.
Senator Richard Gordon, who heads the senate justice committee, also said Duterte opened himself to possible impeachment proceedings following his controversial comments.
"When he says that, he's opening himself up, so what's the legal way, then go ahead and impeach him," he told reporters.
Duterte's allies in Congress dared the President's opponents and critics to file an impeachment motion, saying removing the leader through a political process is a numbers game.
There are fewer than 50 opposition lawmakers in the 293-member lower house of Congress.
A two-thirds vote is needed to impeach a president.