North east Nigeria is facing a humanitarian crisis where 55,000 people at risk of dying because they have no food. Aid Zone visits Maiduguri where some malnutrition cases are critical.
Millions of people have escaped the militant group Boko Haram in north east Nigeria. They face a new threat: starvation. Hundreds of thousands have fled to the capital of Borno State, Maiduguri.
Aid groups have been working for a couple of years, but people here are still dying of malnutrition.
The Alima clinic for children under five opened in August with the help of the EU. It sees around 100 children a day.
The clinic's medical activity manager Margaret Otuya pointed out one of the underweight children who is one year and three months old. She tells us that he weights six kilos, the typical weight of a four-month-old baby.
Abubaka's condition is very serious so he will be transferred to a proper hospital.
Every day the clinic sees around seven cases of severely malnourished kids with similar complications. That is about 50 a week.
"In three months we have seen over 6,000 cases," Otuya says. "We've seen also children with severe malnutrition, over 1,000. So it's alarming. The conditions that we see the highest morbidity is respiratory infections, followed by acute watery diarrhoea and malaria."
UNICEFwarns that without further assistance, up to 75,000 children will die in famine-like conditions in north east Nigeria over the next year.
Euronews asked Cecile Barriere, a food security expert from Solidarites International if the Nigerian state of Borno is facing a situation similar to the ones we had in Biafra or Somalia?"
#AidZone is back from #Maiduguri, where we featured the serious food crisis in North Eastern #Nigeria. pic.twitter.com/xC4i5YtUbI

— Monica Pinna (@_MonicaPinna) November 19, 2016
"The country's total percentage of people affected by this crisis is by far lower than Biafra and Somalia, but we have alarming figures," Barriere said. "In several states we have malnutrition over the alert threshold. The thresholds for severely malnourished children is 2 percent and we are today at 9 percent in these areas. For general malnutrition the threshold is 10 percent of the population, and we are today at 37 percent."
The United Nations says an additional two million people are still in Boko Haram-controlled areas, thus inaccessible to aid. The militants still move freely throughout much of the countryside and large areas of farmland got abandoned.
People in newly liberated villages were found in desperate conditions. Despite Maiduguri being among the safest and best served places of the state, since October, there has been at least one suicide attack per week. There were three in one day when we were there. People live in makeshift camps, in bombed-out buildings or, like Zara Dalla, in the host community.
"I came one year ago from a village 70 kilometers away," Zara told Euronews. "Boko Haram tried to abduct my children, so we had to leave. Every household has lost someone."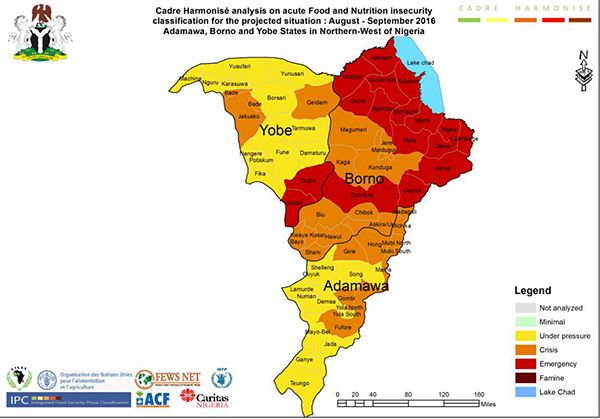 Source FAO.org – 18 August 2016
Zara is among the mothers at the clinic. Her daughter Aisha is malnourished and she is monitored weekly.
"She has been in the programme for two weeks, this is the third week, she came with 7.8 kg she is 2 yrs old, and right now the weight is 8.2, so we can see she is doing well," Otuya told Euronews.
Zara and the other mothers are given food and water kits. The World Health Organization says 361,000 deaths among children under five could be prevented every year with better water and hygiene. So the plan against malnutrition in Maiduguri includes installing toilets and new water points.
"We have nine water points to build," Almoustapha Garba from Solidarités International
told Euronews. "Tension is rising in the outskirts, so people are still arriving. But I think that with these nine water points we can alleviate the needs of many."
The European Office for Humanitarian Aid was among the first donors to acknowledge the situation opening an office in 2013 and bringing about 75 million euros into the region.
"This is the fastest growing displacement crisis and the volume of the needs still uncovered is huge," said Isabel Coello from EU Humanitarian Aid. "We are facing a food crisis that could turn into a catastrophe."
Nigeria has received around 50 percent of the 484 million dollars required by the UN 2016 Humanitarian Plan. But, needs are so high, that the new appeal for funds has more than doubled.