Mr President, Meet Mr Kanye West
Comments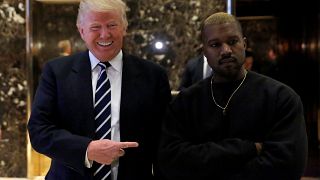 US rapper Kanye West has been pictured meeting President-elect Donald Trump in the business mogul's Manhattan base, Trump Tower.
Trump said the pair discussed "life" during their meeting, and added that they have been friends for a long time .
Kanye West has been seen as a firebrand political figure in recent times, releasing songs with the titles "Black Skinhead" and "New Slaves", which both focused on contemporary racism in the US, on the 2013 album Yeezus. (Yeezus being the artist's self-styled title, often seen to relate to Jesus Christ. He has also declared "I am a God" on multiple occasions)
Before the 2016 Presidential election, West declared that he would run for the Presidency in 2020 .
But in a recent performance in California, he was recorded saying that although he did not vote in 2016, if he did he would have voted for Trump.
"I would've voted for Trump" – kanyewest</a> <a href="https://t.co/XtyUteCgUZ">pic.twitter.com/XtyUteCgUZ</a></p>&mdash; albertoreyes (albertoreyes) November 18, 2016
This declaration was met with boos from the crowd.
Three days later, West entered the UCLA Medical Centre and was treated for exhaustion after police were called to his house after reports of a disturbance .