Egypt: Sisi names Coptic Cathedral bomber as funeral is held
Comments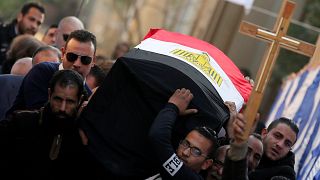 A 22-year-old suicide bomber was behind Sunday's massacre at Cairo's Coptic Christian Cathedral complex, Egypt's President said on Monday.
Abdel Fattah al-Sisi, attending a state funeral for the 24 victims, said Mahmoud Shafik Mohamed Mostafa was responsible for the carnage.
No-one has claimed responsibility but ISIL supporters have been celebrating on social media.
"What is happening is frustration from their side," he told mourners.
"They have been trying to break us for the last three years but they can't – hitting our economy and with a wave of terrorist acts but they know that nothing will break us."
He said three men and a woman had been detained over the attack and that two more people were being sought.
While dismissing accusations of a security failure, Sisi called for tighter anti-terrorism laws.
Copts have been targeted repeatedly by Islamist militants but Sunday's attack, in which mainly women and children were killed, was the deadliest on Egypt's Christian minority in years.
Human Rights Watch is urging better protection for Egypt's Christians.
After much neglect, Egypt should step up protection for Coptic Christians. Bombing them is attack on all Egyptians. https://t.co/HRAdEk2ga2pic.twitter.com/2U37rdPkcf

— Kenneth Roth (@KenRoth) 12 décembre 2016
Sisi is fighting battles on several fronts. His economic reforms have angered the poor, a crackdown on the Muslim Brotherhood has seen thousands jailed and an insurgency rages in Northern Sinai, led by ISIL's Egyptian branch.
Exiled Muslim Brotherhood officials and local militant groups have joined the international community in condemning the attack. Only ISIL supporters online rejoiced.