Both sides in FYROM election claim victory
Comments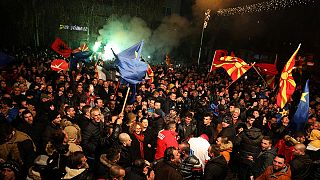 Macedonia's parliamentary election appears virtually tied with both sides in the former Yugoslavian Republic claiming victory.
The governing conservative coalition (VMRO-DPMNE) is thought to be slightly ahead but the gap is by just over one percentage point. Still their leader Nikola Gruevski thinks its enough.
"With this result VMRO-DMPNE is the winner of this election in Macedonia," the veteran nationalist leader told supporters.
Meanwhile the opposition led by the Social Democrats (SDSM) are having none of it. They believe they have scored more than the conservatives in the bigger cities giving them a one seat advantage in parliament.
"Respected citizens celebrate. Enjoy life as the regime has fallen," said leader Zoran Zaev.
The snap election has come after Nikola Gruevski stepped down in January from his post as prime minister following an EU-brokered deal to stop the political crisis surrounding a corruption scandal.
Zaev accused the government of wiretapping tens of thousands of citizens and released recordings of supposed wrongdoings. Gruevski and the VMRO-DPMNE party have denied any culpability in the affair.
Whoever does go on to form the next government they will have to seek a coalition partner among parties representing ethnic Albanians, who account for one-third of the population.
A final result is expected around midday on Monday (Dec 12)