Thousands escape war-torn Aleppo, says Russia
Comments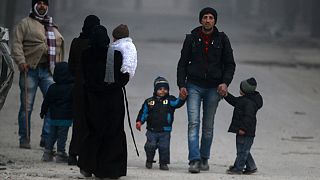 Up to 10,500 Syrians have poured out of parts of war-torn eastern Aleppo in 24 hours, Moscow's defence ministry said on Friday.
The figure has not been independently verified.
Russian claims that the Syrian army suspended military action to let civilians out of rebel-held areas are being doubted amid reports of continued fighting.
"The people who joined the armed groups did it for the salary and the food and drink, and to protect themselves from abuse," explained one man who escaped.
"The groups mistreat those who don't join. And they have a monopoly on all the food, which they sell (to the citizens)."
Another man added: "They tried in any way with me to volunteer with them, but I refused and they beat me. I tried several times to escape from their areas to areas under government control."
The Russian air force and Iran-backed Shi'ite militias are fighting in Aleppo on the government side.
Rebel leaders have given no indication they are about to withdraw, as civilians are squeezed into an ever-decreasing area.