Lyon's light festival gives business big boost
Comments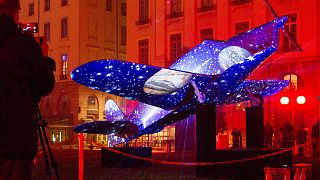 Lyon's festival of light is not only an important economic barometer for France's second city, it's also a useful gauge for the whole country; much of which has been hit hard by a downturn in domestic tourism.
Across the region, hotel and restaurant reported a fall of nearly 30 percent in profits last year, but now it seems the tide has turned.
"This year things are very encouraging, because we've had bookings. The hotels in Lyon will be almost full over the three days, so we're very happy. Group bookings are up to between 70 percent and 75 percent," explained François Gaillard, head of Lyon's Tourism Office.
Foreign visitor numbers are also strong this year because the hospitality industry has made a concerted effort to appeal to tourists from neighbouring Italy, Switzerland and Germany.
Laurent Jaume, president of hotel and restaurant industry union UMIIH, said: "There has been keen interest and the fête will be exceptional I hope, because we did not have it last year. So we worked twice as hard, the organisers worked twice as hard, in order for it to be a success. We see that the customers are present, occupancy rates are good, even if we're losing a day compared to last year."
With the festival lasting just three nights, there is one day less to see the lights this year, but if it can sustain demand Lyon can look forward again to ending the Christmas period with double digit growth.