German exports struggle on slow factory output
Comments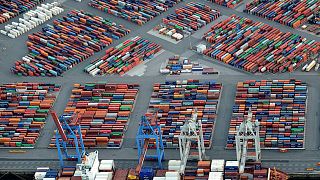 German exports rebounded by less than expected in October, according to latest official figures.
Seasonally adjusted exports rose by 0.5 percent on the month, data from the Federal Statistics Office showed, while imports increased by 1.3 percent.
Exports for September were revised down for a fall of 1.0 percent from a previously reported drop of 0.7 percent.
The data reinforces a trend of weakening exports, which have been losing their traditional role as the main growth driver in Germany. It also dampens hopes that trade will make a significant contribution to a predicted expansion in Europe's biggest economy in the final quarter of this year.
Private consumption and increased state spending have been fuelling German growth. But the positive effects of private consumption are widely expected to wane next year, as rising consumer prices and weaker wage increases are expected to discourage Germans from spending.