Police shooting case in South Carolina ends in a mistrial
Comments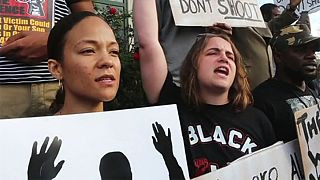 The case of a South Carolina police officer accused of shooting dead an unarmed black man has ended in a mistrial. The outcome has surprised many as part of the evidence was a video of the shooting taken by a passerby.
Officer Michael Slager is seen apparently opening fire on 50-year-old Walter Scott as he fled a traffic stop in April last year. Slager was facing a murder charge but had pleaded not guilty on the grounds of self defence.
After four days of deliberations the jury in the trial said it was unable to reach a verdict.
I don't have anything new to say. I mean, we have a video of an execution and planting evidence & even that's not enough. #WalterScott

— deray mckesson (@deray) December 5, 2016
Family lawyer Chris Stewart said afterwards it was not the end of the matter:
"The fight isn't over, that was round one. We've got two more rounds to go. The solicitor is trying this case again as soon as she can. The DOJ is trying this case as soon as they can. He may have delayed justice but he did not escape it."
"It's not over…until God say it's over" – The mother of #WalterScott
Powerful speech! pic.twitter.com/NTxYbqQSrV

— Crystal Johnson (@Crystal1Johnson) December 5, 2016
The brother of the victim called for peaceful protests at the trial's outcome.
"We're not going to tear up this city, we're going to keep it just the way it is. And we're going to believe in peaceful protest," said Anthony Scott.
The case is one of several involving the deaths of black Americans at the hands of police which have sparked a nationwide "Black Lives Matter" protest.
Charleston County's prosecutor is to seek a retrial as soon as possible but that is unclear if it will take place due to the possible application of the "double jeopardy" rule on not being tried twice for the same offence.
Slager also faces a separate trial next year in a federal court on charges of violating civil rights laws, obstruction of justice and using a firearm while committing a act of violence.
JUST IN: South Carolina prosecutor confirms she will retry Michael Slager after mistrial today https://t.co/88SgL8xlal#walterscottpic.twitter.com/q5LDrhtvJa

— Mark Berman (@markberman) December 5, 2016