German court rules energy firms can be compensated for nuclear phase-out
Comments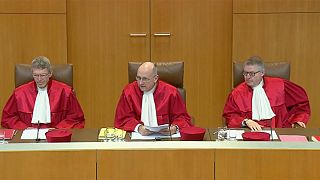 Germany's highest court has ruled that energy companies have a right to compensation over the decision to phase out the country's nuclear plants.
The government ordered the shutdown after Japan's Fukushima disaster in 2011.
Several utility companies – E.ON, RWE and Vattenfall – sued the government, arguing the decision amounted to expropriation.
"Within the government we will of course carefully evaluate the ruling. By the end of the set deadline, June 2018, we will reform the law in such a way that it takes account of these small shortcomings. What is good is that the court has maintained that the legislative procedure in its entirety was not objectionable," said Junior Environment Minister, Jochen Flasbarth.
The court in Karlsruhe decided the phase-out decision itself was legal – but that the utility companies' property rights had been partially violated, paving the way for limited damages.
It's thought they'll only be able to recover a fraction of the nearly 20 billion euros in damages they're seeking.
"This means: legitimate expectation, protection of investment and power generation capacity.
Constitutional violations have been recognised and now the law-maker has to make some corrections. The court was very clear on this, so for the companies this is a fair ruling," said Rupert Scholz, legal representative for E.ON, welcoming the decision.
After Fukushima, Angela Merkel's government decided to stop Germany's eight oldest nuclear plants from operating and to close the remaining nine by 2022.
The power companies have always argued they should not foot the bill alone. They seem to have been heard – although likely court cases in the future mean actual payments could take years to materialise.