Fidel Castro's funeral procession reaches final destination
Comments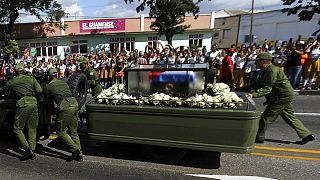 The ashes of Cuba's late leader Fidel Castro have reached their final destination after crossing the country.
Thousands of Cubans packed Santiago de Cuba on Saturday to catch a glimpse of the small coffin containing the urn of the revolutionary's remains.
The three day 800 kilometre funeral procession had retraced in reverse Castro's route to seizing power in Havana to the city he launched his revolution six decades ago.
Castro's will be laid to rest in a private ceremony in the eastern city on Sunday.
His ashes are expected to be entombed near the remains of Cuba's independence hero Jose Marti and follows nine days of national mourning.
Venezuela's Nicolas Maduro and Bolivia's Evo Morales are expected to attend Sunday's service, as are Brazil's former president's Lula da Silva and Dilma Rousseff.