Italy: Political future on the line for Renzi as referendum looms
Comments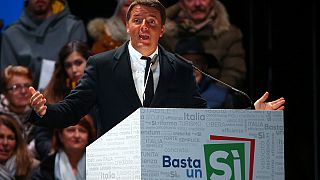 Despite an adrenaline-fuelled campaign to defy the electoral odds, Sunday could be Matteo Renzi's political swan song.
Italy's prime minister has threatened to quit if he loses an all-important referendum. And opinion polls have predicted that he will be defeated this weekend.
Renzi is seeking support for constitutional reforms that would strengthen the lower house of parliament, while reducing the authority of the upper house or Senate. He believes that will make Italian governments more stable.
But this and plans to claw back powers from Italy's regional authorities have proved highly controversial. Opponents say democracy would be weakened and checks and balances reduced.
Italy's Renzi launches last day of frantic referendum campaign https://t.co/gRuQuHzS6cpic.twitter.com/ebDaqdteLx

— Reuters Top News (@Reuters) 2 décembre 2016
If Italy does say 'No', it would be judged part of the same anti-establishment revolt that saw Britain vote to leave the EU and Americans elect Donald Trump as their next president.
On Friday, the last day of official campaigning, the views of shoppers in the Italian capital were mixed.
"I think a vote for 'Yes' would give greater stability, and above all, it would back moves for greater efficiency in a country that is stuck," said Rome resident Anna Camerano.
"At a time of fast moving globalisation, we are terribly slow."
Some fear a 'No' vote could renew turmoil for Italy's battered banks and push the euro zone towards a fresh crisis.
But fellow Rome resident Claudio De Angelis said "Popular opinion indicates something will change. Let's hope things will get better if 'No' wins."
Leading calls for a 'No' vote has been Italy's largest opposition party, the anti-establishment Five Star Movement. For its co-founder, the irreverent comedian Beppe Grillo, Sunday can't come soon enough.
with Reuters