And also... From being taxed to dance to huge bills in France
Comments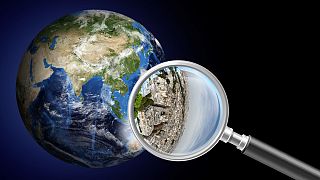 Every Friday journalists from euronews' various language teams choose a selection of stories from Europe and beyond which did not reach the international headlines
France: retired woman receives 8,000 euro electricity bill
A retired woman living in Normandy recently had a nasty surprise when opening her electricity bill. EDF, the main supplier in France, claimed the 70-year-old woman, who lives alone in a small house, owed almost 8,000 euro. The company explained that this bill was a catch-up because her own readings were "underestimated". The woman approached a consumer association for help.
Une Brionnaise a reçu une facture d'électricité astronomique, alors qu'elle vit seule et consomme peu. https://t.co/12xOeFRWOK

— Eveil Normand (@Eveil_Normand) 27 novembre 2016
"A bill like this corresponds to the annual consumption of a store of about 200 square meters," said the president of the association. "Not that of the little house of this lady."
For the time being EDF has proposed a payment period of 24 months to the pensioner, as well as a meeting with a social worker…
---
Belgium: Dancing taxed in Brussels
The owners of the Bonnefooi, a café in the city centre of the Belgian capital, were surprised when a controller of the City of Brussels came to claim a tax on people who were dancing in the establishment. To explain this, the official invoked the tax on the usual dance parts a regulation that has existed since the 1950s and which was renewed in 2014. This regulation provides a tax of 40 cents per person per night. The city's services have counted on average 50 dancers each weekend night in this bar where many concerts are held.
This corresponds to an invoice of €2,000 per year according to the owners of the establishment, who in protest have posted a sign to indicate that dancing is now prohibited in Bonnefooi. The city defends itself by stating that 38 establishments have already paid this tax.
---
Austria: daredevil bike trick 200m above ground
Nothing scares Fabio Wibmer, a young Austrian rider who filmed his latest challenge.
This time, his new playground was the Kölnbrein, one of the highest dams in Europe, in the Austrian province of Carinthia. On his mountain bike trail, he rode for several metres on the railing of the dam which is more than 200m high. Watch out!
---
Spain: Motorist misfortune goes viral
The town of Sagunto, in the Valencian region of southern Spain, was particularly affected by floods. The mishap of a motorist trapped in her vehicle became viral. A television station, present on the spot, broadcast live as the hapless driver squirmed out of her sinking vehicle which was then carried away by the current. She was rescued by emergency services. But one person's misery often loves company… Via #Sagunto, social networks have seized on this story to give birth to a new meme…
Super rescate en Sagunto pic.twitter.com/eV3Ga4FDYi

— juan carlos mohr (@juancarlosmohr) 28 novembre 2016
Vendo BMW con pocos kilómetros: Menos de 1 de largo y mucho menos de 1 de ancho.
No tiene navegador.
Mejor ver. pic.twitter.com/JyoqM6Sns8

— La rubia de Sagunto (@rubiadeSagunto) 1 décembre 2016
---
UK: after Brexit, "metricexit"?
Derek Norman perhaps looks like a typical 82-year-old pensioner who has had a knee replacement. But beneath his mild, unassuming exterior is the head of a national resistance organisation.
Norman is still active in a campaign against metric road signs and travels the country altering or removing the panels which he believes are not legal because the regulations say distance signs must be in miles and yards.
So there's a British 'Active Resistance to Metrication movement' – thanks JoshuaChaffin</a>: <a href="https://t.co/hQP28PNQkN">https://t.co/hQP28PNQkN</a> <a href="https://twitter.com/FT">FT#Brexit

— AnneSylvaineChassany (@ChassNews) 18 novembre 2016
The organisation he co-founded, Active Resistance to Metrication, has now changed or removed 2,000 signs which gave distances in kilometres and metres.
Mr Norman, who is also a UKIP activist, believes that the Brexit decision could bring back the right to use imperial measurements rather than metric.
Sources: