'Ethnic cleansing' reported in South Sudan
Comments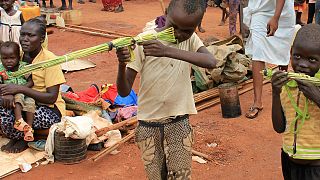 A process of 'ethnic cleansing' is underway in South Sudan's civil war, the UN Commission on Human Rights (UNCHR) has warned.
Government troops have been accused of using massacres, starvation, gang rape and the destruction of villages as weapons in the ongoing civil war between
"There is already a steady process of ethnic cleansing underway in several areas of South Sudan using starvation, gang rape and the burning of villages," chairwoman of the UNCHR Yasmin Sooka said.
"The stage is being set for a repeat of what happened in Rwanda and the international community is under an obligation to prevent it."
President Salva Kiir, whose troops were accused of using starvation, rape and the burning of villages as weapons of war, strongly denied the UN's claims of ethnic cleansing.
"There's no such thing in South Sudan. There's no ethnic cleansing," he told Reuters.
#Uganda | The majority of refugees from #SouthSudan are women and children. https://t.co/UahDNNX4lIpic.twitter.com/LTjUKaCTHP

— EU Humanitarian Aid (@eu_echo) 30 November 2016
Tens of thousands of refugees – mostly women and children – have fled to South Sudan's neighbouring countries, particularly the Democratic Republic of Congo, where over 60,000 have sought shelter.
Resources have been stretched to breaking point by the crisis, according to the UN, whose refugee agency in Congo says it has only been funded at about 25 percent of what it needs.
Bitter conflict
Civil war broke out in South Sudan in December 2013 – just two years after the country gained independence – when President Kiir sacked his cabinet and accused Vice-President Riek Machar of attempting to mount a coup.
Thousands have died as a result of the conflict which caused over 2.2 million people to flee their homes.
While the government and rebel groups agreed to enter negotiations for a peace deal in 2014, signing an agreement a year later, a renewed conflict has erupted.
Ethnic divisions
There are some 64 ethnic groups in South Sudan, each with its own language, traditional beliefs and customs.
The Dinka – the group to which President Kiir belongs – and the Nuer are the largest of the demographics.
The fear now is that the situation for the country's smaller ethnic groups may be conflated with those fighting against government troops.
Local residents said soldiers accused the local population of being rebels, and would make demands and kill if they didn't get them.