Colombia's revised peace deal with FARC comes into effect
Comments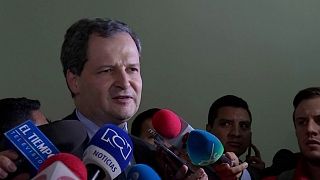 The revised peace deal in Colombia comes into effect immediately after being approved by both houses of Congress.
The country's largest rebel group the FARC now has six months to lay down its arms and form a political party.
Around 50 changes from the initial plan that was rejected in a referendum now take account of opponents' concerns. Many thought it too lenient on the rebels.
"We are committed to working very quickly on the amnesty law for members of the FARC who have not committed atrocities," said Colombia's High Commissioner for Peace Sergio Jaramillo. "That is perhaps the first thing we have to do."
The new accord has been ratified by the lower house of Congress on Wednesday, a day after the country's Senate approved it. It does not need the backing of voters.
Despite the changes, opponents led by former President Alvaro Uribe boycotted the vote believing the deal still too soft.
Last week President Juan Manuel Santos and FARC leader Rodrigo Londoño, also known as Timochenko, formally signed the deal in Bogota.
Santos, who won the Nobel Peace Prize in October for his peace efforts, wants the deal implemented as soon as possible to maintain a fragile ceasefire.
It took four years of talks to bring an end to Latin America's longest insurgency. Over more than five decades of war 220,000 people have been killed and millions displaced.
The threat of violence in Colombia still remains due to the lucrative cocaine business.
Meanwhile talks with the second-largest guerilla force the National Liberation Army (ELN) have been postponed until January.
Colombia's congress unanimously ratifies FARC peace deal https://t.co/MR3SS7eTMDpic.twitter.com/jLSh9sVkh2

— teleSUR English (@telesurenglish) December 1, 2016