Chernobyl 'protected for a century' by new Confinement Arch
Comments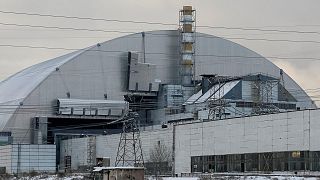 There were celebrations at Chernobyl on Tuesday because a feat of engineering has emerged from the ashes of its nuclear disaster.
Congratulations. Yes, we did it!

Ukrainian President
A colossal 'Confinement Arch' has been successfully put in place to prevent deadly radiation spewing from the stricken reactor for decades to come.
Ukraine's President Petro Poroshenko told a ceremony that the consortium behind the project had guaranteed 100 years of nuclear safety.
"A lot of people had doubts, a lot of them didn't believe in this. But congratulations. Yes, we did it!"
While work continues to secure the site, the installation of the new enclosure marks a major milestone.
"Thirty years after the accident, pains and costs are still there but the healing process has come a long way," said former UN weapons inspector Hans Blix, who heads the Chernobyl Shelter Fund.
"Moving together two halves of the huge arch and sliding the gigantic shelter into position over the historic reactor is like closing a wound, a nuclear wound that belongs to all of us."
ICYMI: New timelapse video of #Chernobyl arch sliding. This is how it happened. We manage the funding for the project. pic.twitter.com/tGXfjDFLni

— The EBRD (@EBRD) 29 novembre 2016
On April 26, 1986, a botched test at the Soviet nuclear plant sent clouds of smouldering nuclear material across large swathes of Europe, forced over 50,000 people to evacuate and poisoned unknown numbers of workers involved in its clean-up.
A concrete sarcophagus was hastily built over the site of the stricken reactor to contain the worst of the radiation, but a more permanent solution has been in the works for years.
Easily visible from kilometres away, the 36,000 tonne 'New Safe Confinement' arch was slowly pulled over the site over the past four days.
What a human being looks like against the backdrop of the giant #Chernobyl New Safe Confinement! https://t.co/gHSvc2HdKEpic.twitter.com/bQhxNNEo8Z

— The EBRD (@EBRD) 29 novembre 2016
The world's largest land-based moving structure, it resembles a giant aircraft hangar and is tall enough to house London's St Paul's Cathedral or Notre Dame in Paris.
Decades of work to help make the site safe have been funded by donations amounting to over 2 billion euros from over 40 countries and organisations.
The European Bank for Reconstruction and Development which has managed the funding for the clean-up said the programme to transform Chernobyl into an environmentally safe and secure condition by November 2017 was on track.
Even with the new arch, the surrounding zone, which at 2,600 square kilometres is roughly the size of Luxembourg, will remain largely uninhabitable and closed to unsanctioned visitors.
with Reuters