Chernobyl nuclear disaster site sealed with massive steel shield
Comments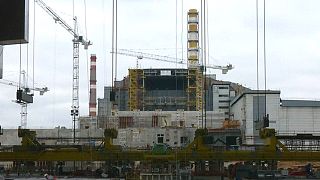 On April 26, 1986 a reactor at the Chernobyl nuclear power plant in Ukraine exploded, causing an environmental disaster never before seen, and forcing tens of thousands of people to flee.
Thousands of tons of sand, clay and lead, spilled by helicopters, were needed to control leaks.
The Chernobyl sarcophagus. In 1996 it was considered impossible to repair with radiation levels within as high as 10,000 röntgens per hour. pic.twitter.com/1VaiLtym3Q

— Chernobyl Gallery (@ChernobylG) November 28, 2016
A 2005 report from the WHO predicted 4,000 people would eventually die from radiation exposure.
Thirty years after the disaster, the question of radiation contamination has not gone away.
On May 14, 1986, the world's worst nuclear accident was publicly acknowledged by then head of the USSR Mikhail Gorbachev.
In October of this year (2016) Gorbachev said that "a nuclear weapon-free world is not a utopia, but an imperative necessity."
Sarcophagus
In the six months after the disaster a massive steel and concrete so-called object shelter was built over the nuclear reactor 4 building. The sarcophagus was expected to to isolate the radiation for more than twenty years.
But it eventually showed signs of aging and needed a series of upgrades.
Huge protective shield slides into place to cover the stricken Chernobyl reactor as the 'sarcophagus' ages. (NPR): https://t.co/3zzivKxrwF

— Steven Ashley (@steveashleyplus) November 18, 2016
New Safe Confinement
A new arched structure, which took four years to construct, was built by French consortium Novarka.
Chernobyl's new shelter moves slowly into place
The waterproof arch is designed to seal the reactor complex, keeping it environmentally secure and to allow, sometime in the future, the partial demolition of the original shelter and reactor 4.
"The arch is now at its full height, full width and full length. 108 metres tall, 250 metres wide and 150 metres long, explained David Driscoll, from Novarka. "It will act as a safe confinement over the number four reactor and it is planned to last for 100 years, it designed to last for a 100 years, to give Ukraine chance to dismantle the number 4 reactor, to make it safe forever."
The 25,000 ton steel framework is the largest mobile land structure in the world.
The cost, more than two billion euros, is funded by more than 40 countries and the European Bank for Reconstruction and Development (EBRD)
---