Black Friday boosts online sales in Britain and France
Comments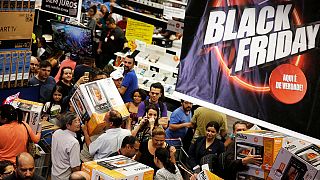 Bargain hunters in Britain are out in record force for Black Friday trading.
This year's spending spree is set to eclipse last year's level with online shoppers eager to avoid expected high prices next year, as a weaker pound pushes up the cost of imports.
According to Ben Perkins, head of consumer business at Deloitte, what's really different this year is the spread of the web.
"What's really different about this year is the growth of online. So, most… most of economists are predicting at least half of all retail sales registered today will be online. Consumers are increasingly choosing to shop from the comfort of their home and retailers are making it easier for them to do so by spreading the offers over a longer period of time."
Sentiments shared across the Channel in France where the sales situation is becoming very similar to that of the UK.
More high street stores are joining the sales bonaza and retailers are hoping "shopaholics" will spend over the whole weekend.
"I don't know the exact number, but we'll definitely increase turnover over three days, Friday, Saturday and Sunday because we are also open on Sunday," said Angelo Barberio, a sales manager at Auchan hypermarket.
And it is not hard to see why, with discounts of between 30% to 50% available on certain items – and even more for lucky online customers.
Further big sales are expected after the weekend on what's now known as "Cyber Monday."