Donald Trump urges US to heal divisions in Thanksgiving video
Comments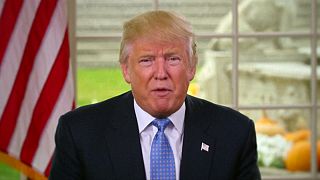 Donald Trump has given a conciliatory message on the eve of America's Thanksgiving holiday.
Tensions just don't heal overnight. It doesn't go quickly, unfortunately

US President-elect
The US president-elect, who targeted whole groups during the campaign and has continued attacking opponents via Twitter since the vote, recorded a video released by his transition team.
"We've just finished a long and bruising political campaign. Emotions are raw and tensions just don't heal overnight. It doesn't go quickly, unfortunately. But we have before us the chance, now, to make history together to bring real change to Washington, real safety to our cities, and real prosperity to our communities," he said.
The president-to-be has continued to pick his new team. Betsy DeVos, a billionaire Republican donor becomes Education Secretary. She has long promoted private education.
Not confirmed: but the Wall Street Journal says Wilbur Ross, another billionaire, is expected to head the Commerce Department. The 78-year-old known for buying up failed companies has been called the steelworkers' saviour, and a job-cutting vulture.
Former Republican presidential candidate Ben Carson says his future role will be announced in the next few days. His team has denied he's been offered a job in charge of housing and urban development.
Earlier, Trump picked South Carolina Governor Nikki Haley to be the US ambassador to the United Nations.