Gloves come off in French Republican presidential nomination race
Comments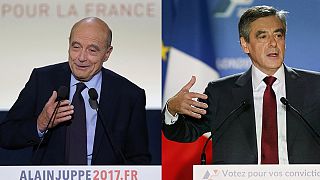 Campaigning ahead of Sunday run-off to see who will be France's centre-right presidential nominee has turned into a war of words. On the economy there is not much to separate Francois Fillon and Alain Juppe but on social issues such as abortion, "outdated" and "reactionary" have been banded about.
One particular issue, that of relations with Russia, drew accusations of "complacency" from Alain Juppe.
"To engage in talks with Russia does mean we become yes men….It means telling them the truth. (…) one does not annex part of a neighbouring country and violate all international laws; this is what (President Putin) did with Crimea. (…) when agreements are signed, like the Minsk agreement to re-establish peace in Ukraine, it must be respected. It's true there are weaknesses on the Ukrainian side, but we also know that Russia is stirring (tensions) within the Ukrainian separatists."
French media brands presidential hopeful Fillon as 'Putin's friend' – RT https://t.co/HExtKWo58n

— France watch (@Francewatch) November 23, 2016
At a rally in Lyon in central France, Francois Fillon defended his "more open minded" attitude towards Russia. Fillon has been quoted as saying there is "no choice but to turn to the Russians and the Syrian regime to eradicate Islamic militants".
"I hear how the friends of my opponent are criticising me of a willingness to normalise our relationship with Russia with more cooperation and honesty. I will let them say what they want, but I will always use whatever means to protect the French but I will cooperate with all countries willing to take down ISIL."
Fillon became the unexpected frontrunner in the Republican race last Sunday beating favourite Alain Juppe into second place. Together they scored the shock knockout of ex-President Nicolas Sarkozy.
Whoever wins the candidacy on November 27 is expected to beat far-right National Front leader Marine Le Pen to the presidency in the 2017 election.