360 video: How the UNDP is helping save lives in Ukraine
Comments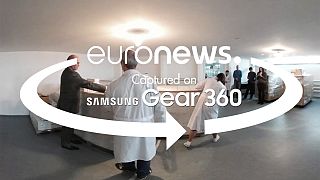 Government hand-over
In Ukraine, by law, all life-sustaining medicines are provided by the state.
However, corruption in the Ukrainian Ministry of Health tender processes means contracts are won by private companies which then buy the drugs at an inflated price.
Medicines can be in short supply in Ukraine as a result.
So, in 2015, the country's government handed over the procurement and distribution of these drugs to international organisations including the UN.
The UN and its agencies
One UNDP warehouse in the Ukrainian capital, Kyiv, is full of life-saving drugs to combat tuberculosis, hepatitis, haemophilia and HIV.
They are shipped from here to healthcare facilities around the country.
"In fact, the minister told me there was a law that said: this medicine has to be bought here – from this company, whatever happens. So, we believe that engaging international organizations like ours allows Ukraine to escape from the old ways of doing things. And, believe me, the old way of doing things was not good. People were not getting the medicine. Some of the medicine that we see in this warehouse is the first shipment for 2 to 3 years," said Jan Thomas Hiemstra, UNDP Country Director.
Despite some challenges, the involvement of international organizations in the procurement process has already shown good results.
The UNDP estimates its efforts have saved the government 3.7 million euros.
When procurement was the sole responsibility of the Ministry of Health, only 45% of Ukrainian patients got the medicine they needed.
The lack of TB vaccine, for example, resulted in an increase of the number of Ukrainian children living with the disease. The shortages of TB drugs increased the number of deaths, according to the Head of the Kyiv Region Tuberculosis Hospital.
"It's really hard to treat those patients who are faced with shortages of the necessary medicines. Their condition can be unpredictable, and it may lead to a fatality," said
Vasyl Shuripa, head of the Kyiv region TB dispensary
.
"Patients of Ukraine"
For years, the organisation "Patients of Ukraine" campaigned with other groups to make medicines accessible for all.
Now, transparent tenders increased the cost-effectiveness of medicine procurement in the country.
The result is a significant saving overall.
"The savings we have are huge. If we compare the prices at which the Ministry of Health bought medicines and the prices at which international organizations purchased the same drugs, we'll see that we saved $34 million (32 million euros) as the result of the reform," said Olga Stefanyshyna, the Executive Director of "Patients of Ukraine".
NGOs say the procurement process must not be placed back in the hands of the Ministry of Health.
They are calling for Ukraine to set up an independent National Medicine Procurement Agency instead.