Mysterious case of mistaken identity? 'Prolific people smuggler' on trial in Italy could be wrong man
Comments
By
Euronews
with
REUTERS, NATIONAL CRIME AGENCY, THE GUARDIAN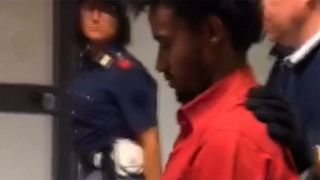 The trial in Italy of an alleged prolific people smuggler has been suspended until November 28 amid allegations of a glaring case of mistaken identity.
A man purporting to be suspect Medhanie Yehdego Mered, 35, has reportedly sent Facebook messages saying the person being held is actually another Eritrean called Medhanie Tesfamariam Berhe who, the texts say, is innocent.
British broadsheet The Guardian says two sources have confirmed the account belongs to Mered.
Michele Calantropo, the lawyer of the man being held in Palermo, said:
"We have found witnesses and documents that show the person who is on trial is not Mr Medhanie Yehdego Mered, but a poor boy called Medhanie Tesfamariam Berhe, who is a refugee like many others, who was in Sudan trying to start the journey to come to Europe."
Berhe is believed to be a 29-year-old former dairy farmer.
The detained man was seized in Sudan in June, 2016, following an investigation coordinated by Italian, Sudanese and British authorities.
Known as The General, the suspect is accused of involvement in a shipwreck off the coast of Lampedusa in 2013, in which 359 migrants died. He is said to have organised the smuggling of some 13,000 people across the Mediterranean in the last four years.