Trump Transition: Conservative choices herald hard line on US security
Comments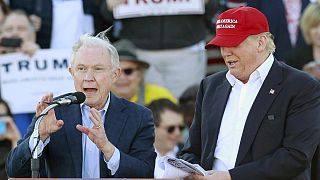 When you're America's 'president-in-waiting', the work never stops.
Donald Trump has moved transition team meetings to his Trump National Golf Club in Bedminster, New Jersey, for the weekend as the key national security choices he nominated back at Trump Tower in New York continue to trigger controversy.
Will be working all weekend in choosing the great men and women who will be helping to MAKE AMERICA GREAT AGAIN!

— Donald J. Trump (@realDonaldTrump) 18 novembre 2016
First and foremost, the nomination of Alabama Senator Jeff Sessions, 69, has caused a stir.
Blocked from becoming a federal judge 30 years ago because of alleged racist remarks, the hardline conservative is now in line to become Attorney General, having supported Trump strongly on the campaign trail.
Republican Congressman Mike Pompeo, 52, a vocal critic of Barack Obama's security policy, is Trump's choice for CIA Director.
A member of the House Intelligence Committee, Pompeo has called for a revival and expansion of a now-defunct domestic spying programme to include "financial and lifestyle information" as well as phone records. He has said that Edward Snowden, a former government contractor who uncovered the spying programme and who now lives in Russia, should get the death penalty if he is ever tried and convicted.
Retired Army Lieutenant General Mike Flynn, who has championed Trump's pledge to take a more aggressive approach to terrorism, was named National Security Adviser.
Flynn, 57, was fired from the Defence Intelligence Agency in 2014, a move he has attributed to his outspoken views about fighting Islamist militancy.
Other officials who worked with Flynn cited his lack of management skills and leadership style as reasons for his firing.
Humbled and honored to serve America and #POTUS45 as APNSA - I want 2 thank all who supported our team. Now let's #MAGA#FridayFeeling

— General Flynn (@GenFlynn) 18 novembre 2016
The picks could heighten concerns abroad that the Trump administration might carry out campaign promises of banning Muslims from entering the US or imposing more severe restrictions on migrants from countries or regions with high levels of militant Islamist activity, such as Iraq and Syria.
But fierce Republican critics of Trump are also getting a look in, when it comes to meeting the next US President.
On Saturday, Trump is scheduled to hold talks with Mitt Romney, the failed 2012 Republican presidential nominee, who has previously branded Trump a 'phony' and a 'fraud'.
Rumours suggest Romney could be under possible consideration as the next US Secretary of State.
Trump considering Mitt Romney for secretary of state: NBC News https://t.co/DLQecgzwGgpic.twitter.com/GpLA6uBIl7

— Reuters Top News (@Reuters) 18 novembre 2016