Remembering the fallen of Vukovar 25 year on
Comments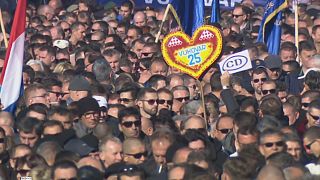 Tens of thousands of Croatians gathered in Vukovar to mark the 25th anniversary of the town's fall to Serb forces during the war for independence.
I have been searching for my daughter since 1991

Mother of missing girl
A silent march was led by the veterans and family members of the victims of the siege in 1991.
"It is touching that so many people came to pay tribute to Vukovar's victims. As a Croatian defender who participated in the War, I can not thank these people enough who came in such a large number to pay tribute both to Vukovar and to all Croatian defenders," said Damir Varazdinac, a disabled War veteran.
To historians it was one of the bloodiest and most protracted battles on European soil since 1945, and for those who experienced it the wounds are still fresh.
"I have been searching for my daughter since 1991; unfortunately for 25 years. The feelings I had in 1991 are just as fresh in 2016," Milka Pancic told a reporter.
During the three month siege in 1991, more than 1,600 people were killed and 22,000 inhabitants were expelled from the town.
Up to 90 per cent of the town's buildings were destroyed in the battle. On the eve of the anniversary the government announced 7 million euros in funding to stimulate the economy and to restore the water tower, which became a symbol of resistance.
Powerful reminders. #Vukovar#NeverAgainpic.twitter.com/n1lLHImvT5

— Julieta Valls Noyes (@USAmbNoyes) November 18, 2016