British jobless rate falls to 11-year low
Comments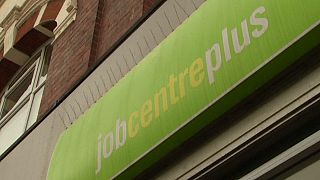 The jobless rate in Britain unexpectedly fell to its lowest level in 11 years between July and September – immediately after the vote to leave the European Union.
It edged down to 4.8 percent of the workforce .
But there were also signs of a possible slowdown. The increase in the number of people in work weakened and October saw more people claiming unemployment benefit.
#Unemployment rate (for people aged 16+) 4.8% for Jul-Sep 2016, down from 5.3% a yr earlier https://t.co/akklsvf2Wcpic.twitter.com/70eOASsr7s

—

ONS

(@ONS) November 16, 2016
"There are now clear signs of softness in the labour market following the vote to leave the EU," Daniel Vernazza, an economist with Italian bank UniCredit, said, adding he expected a "slow burn" of gradually rising unemployment.
Britain's economy weathered the initial shock of the Brexit vote better than expected.
However, many firms are cautious about hiring as they wait for more clarity on the long-term effects of the referendum outcome.
Prime Minister Theresa May said: "The employment figures show the strength of the fundamentals of our economy."
Commenting on today's labour market figures, ONS statistician David Freeman said: pic.twitter.com/YDeWzFpdFB

—

ONS

(@ONS) November 16, 2016
Google backs Britain
There was a vote of confidence in London's future as a technological hub from Google's Chief Executive Sundar Pichai this week.
He announced plans for a large new building in London that will house thousands of additional employees.
Pichai said computer science had a great future in Britain, citing the talent pool, educational institutions, and passion for innovation present in the country.
He said he was optimistic about Britain's future, despite the uncertainty caused by the Brexit vote.
"Historically, the UK has been an open and connected economy, and like a lot of businesses we are proud of and rely on the fact that we recruit the best talent from around world," he said. "We are optimistic that this situation will continue."
"We understand there is uncertainty and even concerns about topics like Brexit and the pace of technological change in our times, but we know for certain that web and digital technology will be an engine of growth for the UK for years to come."