What will Trump's presidency mean for the Iran nuclear deal?
Comments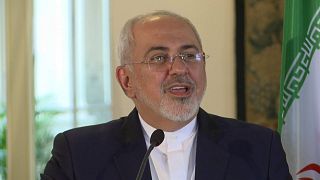 Donald Trump has long castigated the international pact Tehran agreed with the US and several global powers over its nuclear ambitions.
It doesn't mean that we do not have other options

Iranian Foreign Minister
President Barack Obama's outgoing administration ardently promoted the deal struck in July 2015. Since coming into effect it has removed sanctions on Tehran in return for curbs on its suspected drive to develop nuclear weapons.
Obama hailed it as a landmark accord that offered the a chance to defuse tensions in the Middle East and reduced the threat of war.
Iran's 'other options'
This week Iran has said it wants all parties to stick to the deal – but has "options" should that not happen.
"Of course Iran's options are not limited but our hope and our desire and our preference is for the full implementation of the nuclear agreement, which is not bilateral for one side to be able to scrap," Iran's Foreign Minister Mohammad Javad Zarif said on Thursday in Slovakia.
On Friday he had a similar message on a visit to Prague, saying he expected the new administration to accept the agreement "once the dust has settled".
"Iran has been implementing its part of the bargain. Unfortunately, the United States, even during the current administration, has not fully implemented its part of the bargain but we believe that JCPOA (ed: the Joint Comprehensive Plan of Action, or the nuclear deal between Iran and world powers) is a reasonable agreement good for everybody. That's our preference. It doesn't mean that we do not have other options," Zarif told a joint news conference with his Czech counterpart, Lubomir Zaoralek.
In return for the removal of sanctions, the accord obliges Iran to reduce its uranium-enrichment capacity and stockpile, and accept UN inspections. This week the UN atomic watchdog criticised Iran for breaching conditions.
The deal was strongly opposed by Republicans in the US Congress.
During his presidential bid, Donald Trump called the pact "disastrous" and said it was his "number one priority" to dismantle it – considering the accord too soft on Iran.
"They (the Iranians) violated the agreement already. I mean it is a few days after all. They violated one of the worst deals I have ever seen negotiated at any level," he told a rally in Mississippi in January.
Inconsistencies in Trump's stance however have been pointed out. At the same time as calling for tougher restrictions on Iran, he criticised sanctions that prevented American companies from dealing with Tehran.
Trump's 'review'
By August the presidential candidate had tempered his rhetoric, saying he would not "rip up" the deal but would "police it so tough they don't have a chance".
Following his election this week, a senior foreign policy adviser to the president-elect said Trump would "review" the deal, sending it to Congress and demanding changes from the Iranians.
"The agreement as (it) is right now – 750 billion dollars to the Iranian regime without receiving much in return, and increasing Iranian intervention in four countries – that is not going to be accepted by a Trump administration," Walid Phares told BBC Radio
If the US unilaterally pulled out of the agreement, it would have to contend with the likely anger of the other parties who negotiated it – China, Russia, the UK, France and Germany.
However, Iran's leadership is divided over the pact which has been opposed by hardliners in Tehran – and some observers predict its demise.
The agreement was approved by the United Nations Security Council but was not formally adopted as a treaty.
Trump election puts Iran nuclear deal on shaky ground https://t.co/0gQOHdv7SQpic.twitter.com/hQWxX77QFP

— Reuters Top News (@Reuters) November 9, 2016