'We reject the president elect' - second day of anti-Trump protests
Comments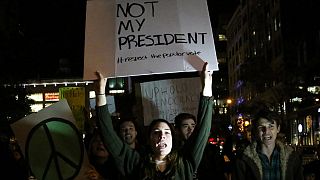 Demonstrators have taken to the streets across the US for a second day to vent their anger over Donald Trump's presidential election victory.
They fear the billionaire businessman's political triumph will deal a blow to civil rights.
In New York, a crowd chanted "we reject the president elect" and "not my president."
While in Washington, protesters – mainly young people – took to a megaphone to voice their concerns.
"There's a lot more of us than there are of them. Hillary won the popular vote, love does Trump hate. We need to continue this fight you guys, please," said one demonstrator.
Another commented: "We're going to make sure that Donald Trump knows how unhappy we are with the things that he has said and until he comes up and apologises and really stands to be a true American for all Americans, then he needs to step down"
A third protester added: "We're a country of immigrants. We are a country of hard workers. And we are a country that has always benefited from the underdogs."
⚡ Anti-Trump protest invades Thursday Night Footballhttps://t.co/eUckyqT5HG

— Los (@TPF_Anaya) 11 November 2016
Thursday's demonstrations were generally smaller in scale and less intense than those the day before. But protesters are not giving up, with more anti-Trump action planned for the weekend.
Anti-Trump protest in Oakland, night three, probably 890-1,000 demonstrators pic.twitter.com/Gyh8kPLcEr

— Nick Miller (@NickMiller510) 11 November 2016