Singer-songwriter Leonard Cohen dies aged 82
Comments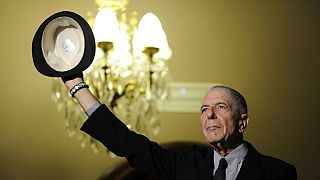 Singer-songwriter Leonard Cohen has died at the age of 82, according to a statement on his Facebook page.
"It is with profound sorrow we report that legendary poet, songwriter and artist, Leonard Cohen has passes away," the statement says.
"We have lost one of music's most revered and prolific visionaries."
A memorial will take place in Los Angeles at a later date. No further details on his death were given.
One of the greats. RIP Leonard Cohen. pic.twitter.com/WK7HgXhcgT

— History In Pictures (@HistoryInPix) 11 November 2016
Cohen, a native of Quebec, was already a celebrated poet and novelist when he moved to New York in 1966 at the age of 31 to break into the music business.
Before long, critics were comparing him to Bob Dylan for the lyrical force of his song-writing.
How Leonard Cohen's "Hallelujah" brilliantly mingled sex and religion https://t.co/erEOtPllDtpic.twitter.com/Y3ZtCfGYc8

— Rolling Stone (@RollingStone) 11 November 2016
Although he influenced many musicians and won many honours, including induction into the Rock and Roll Hall of Fame and the Order of Canada, Cohen rarely made the pop music charts with his sometimes moody folk-rock.
But Cohen's most famous song, "Hallelujah," in which he invoked the biblical King David and drew parallels between physical love and a desire for spiritual connection, has been covered hundreds of times since he released it in 1984.
He remained wildly popular into his 80s, when his deep voice plunged to gravelly depths. He toured as recently as earlier this year and released a new album just last month.
Social media reaction
You always were a master of timing, Leonard Cohen. RIP

— Bill Corbett (@BillCorbett) 11 November 2016
He let us know he was ready to go. I hope he rests in peace ❤️ This is my all time favorite song. Thank you. https://t.co/0z9Nnm1a8T

— Gina ☽ (@GinaCash7) 11 November 2016
Leonard Cohen. Brilliant in the beginning. And brilliant right up until the end. I'll miss his genius and his dark wit. RIP good Sir.

— Don Gonyea

NPR

(@DonGonyea) 11 November 2016
Just some we've lost this year. David Bowie, Glenn Frey, Ross Hannaford, George Martin, Jon English, Merle Haggard, Prince & Leonard Cohen.

— Peter Mitchell (@Peter_Mitchell7) 11 November 2016
"Love is not a victory march; it's a cold and it's a broken hallelujah." Leonard Cohen's words strike a particular chord right now

— ellie konfrst (@elliekonfrst13) 11 November 2016
Rest in peace Leonard Cohen, I really looked up to you. A legend of a songwriter. Thank you for blessing this earth with your work … :(

— Chase Goehring (@chasegoehring) 11 November 2016
"There is
a crack
in everything.
That's how
the light
gets in."
- Leonard Cohen
A great Canadian.
Rest in Peace pic.twitter.com/N8nIaQmUHA

— Meanwhile in Canada (@MeanwhileinCana) 11 November 2016