Scores of migrants set out on foot for the EU
Comments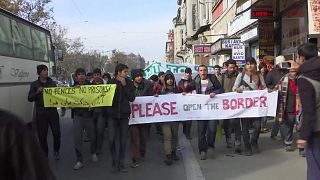 We are making the humble request that they open the border.

Migrant from Afghanistan
Scores of migrants have set out to walk from Belgrade to the border with Croatia.
They are demanding that the EU open its doors to them, giving them free and secure passage towards Western Europe.
Thousands have been trapped in Serbia for months after the Balkan country's EU neighbours beefed-up border controls to keep migrants away.
Reuters: Migrants stranded in Serbia march toward Croatian border: BELGRADE (Reuters… https://t.co/sQrCa4uO3r

— Glenn Quagmire ☣ (@Angelus1701) November 11, 2016
Where are they living?
Most migrants in Serbia have stayed in asylum centres.
However, hundreds of men have been camping out in parks or abandoned warehouses in Belgrade.
They are looking for ways to cross illegally into Hungary or Croatia.
What happened?
They gathered in a Belgrade park, carrzing banners reading "Open borders" and "No More War".
What do they want?
They say they want to march toward the border with EU member, Croatia.
Why are they protesting now?
Their plight has worsened.
The Serbian authorities have instructed human rights groups to halt food deliveries outside migrant centres.
The aim is to move migrants off the streets.
Male #migrants piling up in #Belgrade while a ban on NGOs giving them food makes their plight grimmer https://t.co/hasm1IZ9Mo#refugeecrisispic.twitter.com/ein3XUIPHx

— Balkan Insight (@BalkanInsight) November 10, 2016
What they are saying
"There is a big problem for us in Serbia as refugees, we want to go to the Croatian border. We are making the humble request that they open the border. We will make the journey there on foot from Belgrade," – Ibrahim Wesa, migrant from Afghanistan.