China sees Trump election as a trade opportunity
Comments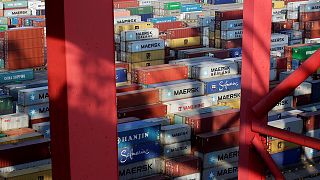 China is looking to turn the US election upset to its advantage.
Chinese officials have said it will seek support for a Beijing-led Asia-Pacific free trade area.
That is because Donald Trump has turned his back on the Trans-Pacific Partnership (TPP) championed by President Barack Obama.
The plan is try to get other countries on board at a regional summit in Peru later this month.
With Trump expected to withdraw US from TPP, China unsurprisingly steps up progress on rival Asia-Pacific trade deal https://t.co/yiVXK82khm

— Haidi Lun 伦海迪 (@HaidiLun) November 11, 2016
China's Vice Foreign Minister Li Baodong warned of the rise of protectionism and pledged its free trade agreement would follow World Trade Organisation rules: "China believes we should set a new and very practical working plan, to positively respond to the expectations of industry, and sustain the momentum and establish a free trade area in Asia-Pacific at an early date."
Anti-globalisation protesters opposed the Trans-Pacific Partnership trade deal between 12 Pacific Rim nations and which excluded China.
#TPP is NOT dead. Take action to spread word to Congress that they must #StopTPP: https://t.co/gAx37Is25h

— Stop the

TPP

(@ExposeTPP) November 11, 2016
It is set to be ratified by the end of this year by seven countries – Japan, Mexico, New Zealand, Australia, Singapore, Vietnam and Malaysia – but not the US with Trump heading for the White House.
During the campaign he said: "We're going to stand up to China, withdraw from TPP – which is another disaster – and protect every last American job."
The Obama administration saw TPP as a way of keeping China's economic power in check.
Beijing feared the US would use the deal to either force China to open markets by signing up or isolate it from other regional economies.
But the election of Trump is a game changer and puts Beijing in a much more powerful trade position.
Republican congressional leaders have confirmed what might seem obvious with Trump's triumph: TPP is dead https://t.co/ndxI30CEUk

—

NYT

Politics (@nytpolitics) November 10, 2016