'How's she voting?' Does Donald Trump even trust his wife?
Comments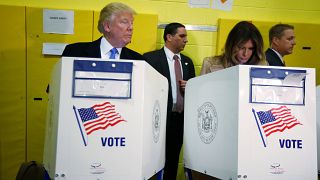 Donald Trump repeatedly reminded American voters of Bill Clinton's infidelity during the election campaign.
He even suggested that his Democratic rival might herself have cheated on her husband.
However three-times married Trump doesn't have the best record for marital harmony himself. And a photo taken at the polling booth today led the internet to ask whether he even trusts Melania to vote for him.
MELANIA: of course I'm voting for you
DONALD: I know I trust you
MELANIA: good
DONALD: pic.twitter.com/KTaB1ThvSh

— rob (@rockymomax) November 8, 2016
Another, awkward incident for the Trump family came when son Eric Trump Tweeted a picture of his vote. He later deleted it because photographing your completed ballot paper is illegal in New York City.