Barack Obama and Melania Trump speak out in support of their presidential candidates
Comments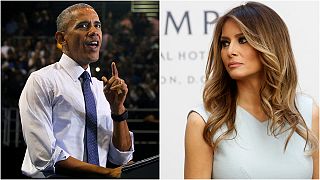 Both US presidential candidates brought out the big guns as the race for the White House entered its final days.
Melania Trump made a rare speech in which she highlighted the dangers of social media comments, which can be "too mean and too rough."
In Berwyn, Pennsylvania, the Republican nominee's wife pointed out that people are too often bullied for their "looks and intelligence."
She was also keen to remind the public of her Slovenian upbringing after a campaign in which accusations of racism have been fired at Donald Trump.
"I'm an immigrant and let me tell you no one values the freedom and opportunity of America more than me," she said.
Democratic candidate Hillary Clinton didn't appear to be convinced.
"He has said that he thinks the lives of black people are all crime and poverty and despair," she told an audience in Raleigh, North Carolina.
"He has no idea, no idea about the strength of the black church, the vibrancy of black-owned businesses, the excellence of historically black colleges and universities."
Current President Barack Obama, who was out campaigning on behalf of the Clinton camp, called her Republican rival "uniquely unqualified" for the job of President of the US.
His appearance in Jacksonville, Florida, comes at a crucial time.
In the space of a week, Democrat Hillary Clinton has seen her national opinion poll lead shrink dramatically as the FBI announced a fresh investigation into her aide's emails.
Also in North Carolina, Donald Trump was quick to capitalise on the situation.
"Hillary created the server to shield her criminal activity and her corrupt pay for play scheme where she sold her office as Secretary of State to donors and special interests and the FBI has it all," he told those assembled in Selma.