Jailed for a Tweet: HRW slams attempts to silence online dissent in Gulf Arab States
Comments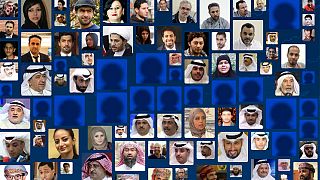 Human Rights Watch (HRW) has criticised what it calls a 'well-funded assault on free speech' in the Gulf Arab States. Launching a new interactive website, which highlights 140 prominent activists – in a nod to Twitter's 140 character limit – it calls on the countries to carry out reforms, rather than jail the peaceful critics.
The website includes political activists, human rights defenders, journalists, lawyers, and bloggers from the six Gulf Cooperation Council (GCC) countries – Bahrain, Kuwait, Oman, Qatar, Saudi Arabia, and the United Arab Emirates (UAE).
"The Gulf states have engaged in a systematic and well-funded assault on free speech to subvert the potentially transformative impact of social media and Internet technology," said Sarah Leah Whitson, Middle East director for HRW.
Control. Halt. Delete. 140 Gulf activists who paid the price for dissent https://t.co/KMznyvpBXT#140GulfCharacterspic.twitter.com/JqJkjg5Qfe

— Human Rights Watch (@hrw) November 1, 2016
You can follow it under #140GulfCharacters.
Prominent Cases
Raif Badawi
Badawi, a human rights activist and author of the website "Free Saudi Liberals," was arrested in Saudi Arabia in 2012, accused of insulting Islamic values. He was later sentenced to one thousand lashes and 10 years in prison. In 2015 he was awarded the European Parliament's Sakharov Prize for Freedom of Thought.
Nabeel Rajab
Bahraini human rights activist Rajab was jailed on charges of "spreading false rumours in time of war", "insulting public authorities [the Ministry of Interior]" and "insulting a foreign country". He denied all charges which are related to tweets and retweets he made about the war in Yemen.
Mohammed al-Roken
A leading human rights lawyer, he was imprisoned in 2013 after a mass trial in the United Arab Emirates following a crackdown on political dissidents and human rights activists.
The website states that many of those arrested and detained had social media profiles and were active online to build campaigns and support networks. The governments in the Gulf States are apparently deploying software to locate dissidents online. According to leaked corporate documents from independent security researchers, Western and Israeli companies have sold 'intrusion software' to the governments, which can be used to violate citizens' right to privacy.
HRW also voices concerns about the online crackdown in the wake of the Arab Spring uprisings in 2011 which were facilitated by social networks. A string of laws in the Gulf Arab states were enacted to scale back freedom of expression, such as branding critics of the government as 'terrorists'. The rights watchdog points out that many of the repressive practices are in contradiction to Article 32 of the Arab Charter on Human Rights, which allows for "the right to information and to freedom of opinion and expression, as well as the right to seek, receive and impart information and ideas through any medium, regardless of geographical boundaries."