Iraqi forces breach the outskirts of Mosul over two years after ISIL took control
Comments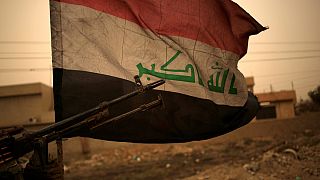 The outskirts of Mosul have been breached by Iraqi forces for the first time in more than two years of ISIL rule in the city.
Elite Counter Terrorism Service – or CTS – troops, backed by US-led air strikes, have pushed in from the east faster than some had predicted, but are still said to be facing fierce resistance from the jihadists.
Ravina Shamdasani, a spokesperson with the Office of the United Nations High Commissioner for Human Rights, outlined fears that civilians are being brought into the city to hamper the coalition's efforts.
"ISIL is taking people closer and closer to Mosul city. We also have reports that they are putting people very close to their offices and to military installations, to what would be military targets," she said.
"Now that seems to support the assertion that they are planning to use these people as human shields, as well as to make sure that the area is heavily populated with civilians to frustrate a military operation against them."
CTS soldiers entered Mosul's state television station on Tuesday (November 1), in a move marking the first takeover of a strategically important building since the offensive began, two weeks ago.
Iraqi Army units are also moving in to the south-eastern Judaydat al-Mufti area, the military says.
Local residents report the ultra-hardline Sunni militants have resorted to street fighting in some areas, to hold the Army back.
As Iraqi units fight their way through villages and towns towards ISIL's last bastion in the country, more and more people are leaving – some waving white flags – to camps for the displaced being set up away from the frontline.
One CTS officer said 500 civilians had already been moved from the eastern village of Bazwaia to one such camp.
"We expect to encounter more civilians as we push through the city," he added.