Scuffles in Paris as police move in to tear down makeshift migrant camps
Comments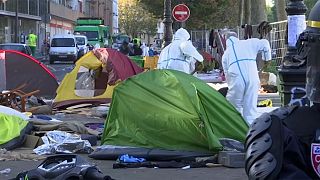 Tensions have flared between migrants and police at a makeshift camp in the French capital.
Officers moved in to clear tents from pavements, where hundreds of migrants have gathered. Some scuffles broke out between the two sides, with riot police brought in.
Makeshift camps have sprung up since the demolition began of the migrant camp at Calais.
Shikhali Mirzai, a migrant from Afghanistan, told reporters: "This morning the police came. People were thinking that the police would come tomorrow to give a house, a camp.
"Where are these people going to sleep? It's very cold. This isn't a life, it's an animal's life."
Houssam El Assimi, a charity worker, said: "What's happening is the result of a management policy that consists of police raids.
"They form a circle (around the migrants) and sort people on the basis of their administrative situation. Sometimes, it's racial profiling."
The destruction of one of Europe's largest migrant camps is coming to an end, with many people bussed off to other cities around France.
But the plight of hundreds of minors remains uncertain.
Some reports say about 1500 young people are living in temporary lodgings in container boxes.
Hundreds of adult migrants are also said to have avoided the official processing.