France and China investment fund to seek global opportunities
Comments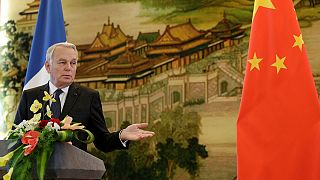 France and China are set to very soon launch a fund for joint investment in overseas projects.
French foreign minister Jean-Marc Ayrault spoke of the plans after meeting with China's foreign minister Wang Yi in Beijing.
As an example he pointed to the controversial Hinkley Point power station project in Britain, to be built by France's EDF and including 6.7 billion euros of Chinese money: "It's a very good example of what we're going to do together, to win contracts in third country markets and in all kinds of sectors. It's a model that we support everywhere, including in Africa and Asia."
#Pékin – Conférence de presse avec mon homologue chinois Wang Yi dans le cadre du partenariat stratégique entre la France et la Chine pic.twitter.com/sIV8OH9zrV

— Jean-Marc Ayrault (@jeanmarcayrault) October 31, 2016
Ayrault was told China will be increasingly open to foreign investment.
Beijing has been criticised by business groups and accused of restricting foreign companies attempts to move into Chinese industries.
But Wang told reporters China welcomes foreign companies' investment in China and defended his country's investment environment, noting it is a developing country and its foreign investment regime cannot be held to the same standard as developed countries.
"If you look at the speed and the extent to which China has opened up compared to other developing countries, it's one of the leaders, and may even be faster than some developed countries," Wang said.
And he promised more for the future: "Of course, we are aware that China's investment environment needs to further improve. What I want to emphasise here is China will become more and more open and our investment environment will become better and better, which can be certainly expected and is an inevitable trend."
Chinese investment into the European Union surged 44 percent last year to 20 billion euros, double European investment in China.