Italy's PM Renzi slams Brussels over migrant crisis
Comments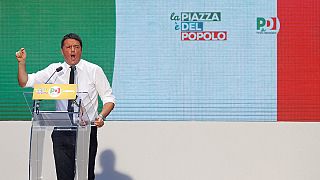 Italy's Matteo Renzi has heavily criticised Europe's handling of the migrant crisis during a huge referendum rally in Rome.
The Italian premier is campaigning furiously ahead of the constitutional vote in December which could decide his future.
Rebuffing recent criticism from Brussels after breaking budget targets, Renzi instead accused Europe of not helping Italy enough with new migrant arrivals.
Referring to last year's shipping tragedy in April, in which some 700 people died in the Mediterranean, Renzi said: "We retrieved that vessel. We did it to give them a proper burial. And now, we want to take the wreckage of that boat to Brussels, in front of the new building of the European institutions. We want to put it there, in that headquarters which cost billions. To explain that Europe cannot afford 3000 dead every year, four times the number that are killed by ISIL.''
The planned constitutional reforms aim to change Italy's bicameral parliamentary system by reducing the powers of the Senate.
Supporters say it will speed up the law making process, but opponents insist it will erode democracy.
Earlier 'NO' vote activists gathered in front of the Colosseum in Rome to protest against the reform which they say will take Italy back 2000 years.